It's here. I can feel it.
The Palmer House Hilton has hosted Vogue Knitting LIVE! in Chicago since the inaugural event in 2012, and it's been fantastic each time I've attended. The Palmer House is only a short mile away from my work offices, so when I realized my hands were twitching slightly this afternoon, I was reminded that it must be due to registration for the event starting in just one short hour, with the first round of evening classes beginning at 6PM this evening.
Unfortunately, I've never had the opportunity to attend a class – I've strictly been a shopper at the marketplace ever year. I'm telling myself next year will be different since I won't be paying a small mortgage in tuition fees. Until then, I have two things to share with everyone has planned or capable of attending this year's sure-to-be-fabulous event:
First, Vogue Knitting is still offering 1/2 off all of its remaining classes, lectures, and marketplace tickets: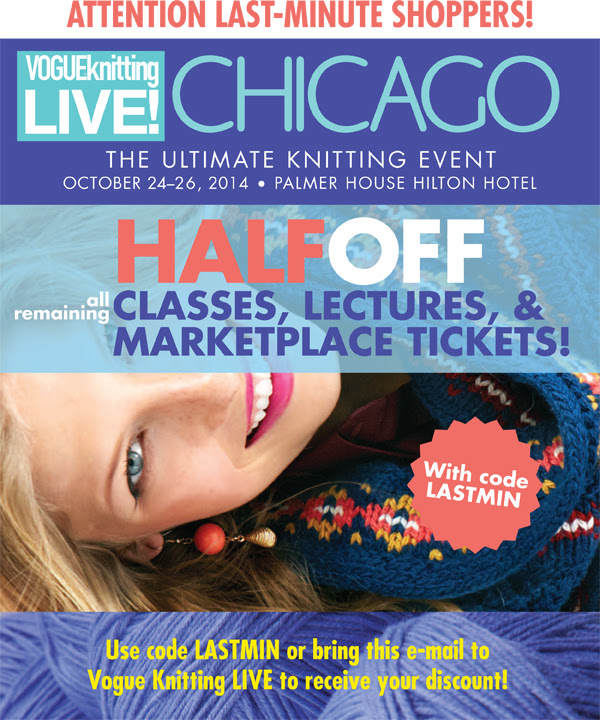 There's a good selection of classes left: for $110, you can attend the marketplace each day (Friday evening, Saturday, and Sunday), schedule one available class, and sit in one lecture. That's an incredible deal if you're local!
If you're like me, and prefer to spend your available cash solely on fiber goodies, you can purchase a 1/2 price Saturday or Sunday market ticket for $10 per person (it includes free Friday night admission, too).  If you feel as though eight hours couldn't possibly be enough time create a suitable shopping experience, for only $12.50 you can purchase a ticket for all three marketplace days.
Secondly, if you want to either follow along with the experience or want to share what's happening at the Palmer House this weekend on Twitter or Instagram, please be sure to use the hashtag #vklive.
BONUS: You can download the guide for this weekend by clicking here.
Mr. Joseph and I will probably be wandering around the marketplace sometime on Sunday morning. Don't be afraid to say "Hello"!